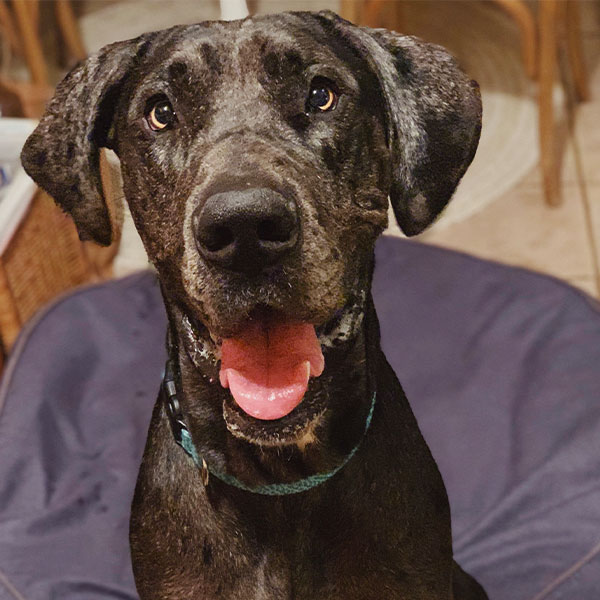 This is Minnie! Minnie is a 2 year old, spayed, vetted GORGEOUS merle that has been with us for some time now. She has been with what is probably the MOST DEDICATED AND COMMITTED foster we have EVER had. Minnie came to us by way of one of our followers who went to the shelter after seeing that she was being given up by her owner on Social Media. She busted Minnie outta there and then reached out for help and asked if we could take her. She was not able to stay at the home of the person that got her and she was said to be dog reactive, sooooo, we had to find a specific foster for her. That's when we found Alba… Minnie's savior. Alba has been working HARD to get Minnie to where she is now, and now it is time for Minnie to move on to a new home/foster/foster-to-adopt with more dane experience. Minnie has IMPECCABLE house manners now, thanks to Alba. She loves her crate, she's housebroken, doesn't have bad habits in the home whatsoever. Minnie's problem is the walk! Walking on a leash in a populated neighborhood is still something that has proven too stressful for this girl… she doesn't even enjoy her walks really. Soooo, we are looking for a home with preferably no children (though older, well behaved and respectful children would be fine) no other animals and preferably a large yard.


Health Status
Minnie is spayed, vaccinated and microchipped.

Special Needs
Minnie has no special needs that we know of.

Kids?
Minnie should go to a home without small children.

Dogs?
Minnie should go to a home where she is the only dog.

Cats?
Minnie prefers a home without cats.